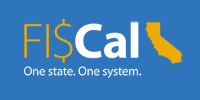 What is FI$Cal?
From the Legislative Analyst's Office:
FI$Cal is an information technology (IT) project currently underway by a partnership of control agencies including the Department of Finance, the State Controller's Office (SCO), the State Treasurer's Office (STO), and the Department of General Services (DGS). FI$Cal replaces the state's aging and decentralized IT financial systems with a new system that will integrate state government processes in the areas of budgeting, accounting, cash management, and procurement.

Current Estimated Cost. $910 million ($494 million General Fund), making FI$Cal the most costly state IT undertaking to date.
Current Estimated Completion Date. July 2019

Anticipated Benefits. The FI$Cal project has several anticipated benefits.

Eliminates the need for over 2,500 department-specific applications.
Enables the state financial systems and workforce to function in an integrated environment.
Automates processes that are currently highly manual.
Improves tracking of statewide expenditures and standardizes the state's financial practices.
Makes information more readily available to the public and the state's business partners.
We've contracted with FI$Cal and with DGS (one of the four controlling agencies) to implement the interfaces between the two departments so we've been on both sides of the fence. When adapting legacy applications to work with FI$Cal, usually file-based interfaces will be used and we've built a portable system to accelerate the development of these interfaces and the same technology can be used with conversions. We've also built the tools required to interface with FI$Cal using web services.
Read more about the FI$Cal project (and now department)
 

| Date Issued | Report Number | Report Title |
| --- | --- | --- |
| January 9, 2018 | 2017-039 | FI$Cal Status Letter Full Report (HTML) Full Report (PDF) |
| January 5, 2017 | 2016-039 | FI$Cal Status Letter Full Report (HTML) Full Report (PDF) |
| January 7, 2016 | 2015-039 | Fi$Cal Status Letter Full Report (HTML) Full Report (PDF) |
| February 26, 2014 | 2013-039.1 | Fi$Cal Status Letter Full Report (PDF) |
| September 24, 2013 | 2013-039 | Fi$Cal Status Letter Full Report (PDF) |
| January 8, 2013 | 2012-039.1 | Fi$Cal Status Letter Full Report (PDF) |
| December 18, 2012 | 2012-701 | Recommendations for Legislative Consideration From Audits Issued During 2011 and 2012 Full Report (PDF) |
| April 26, 2012 | 2012-039 | Fi$Cal Status Letter Full Report (PDF) |
| January 9, 2012 | 2011-039 | Fi$Cal Status Letter Full Report (PDF) |
| August 18, 2011 | 2011-601 | High Risk: The California State Auditor's Updated Assessment of High‑Risk Issues the State and Select State Agencies Face Fact Sheet (PDF) Summary Full Report (PDF) |
| January 6, 2011 | 2010-039 | Fi$Cal Status Letter Full Report (PDF) |
| October 29, 2009 | 2009-039 | Fi$Cal Status Letter Full Report (PDF) |
| January 9, 2009 | 2008-039 | Fi$Cal Status Letter Full Report (PDF) |
| January 31, 2008 | 2007-039 | Fi$Cal Status Letter Full Report (PDF) |